STEVE SPON SOLO PROJECTS
Steve Spon's solo projects…a brief biog
Since the demise of UK Decay and then IN Excelsis back in 1985, Spon has continued producing music for himself and others. As the resident engineer/producer at 33 Recording Studios he worked for a decade on a wide variety of different genre's. He helped produce many post-punk bands in the eighties and nineties, including Click Click, Karma Sutra, Passchendale, Party Girls, Irritant, and Crowe Jayne. He also produced numerous commercial recordings for the 33 Jazz label, as well as co-producing many underground dance tracks for the emerging DJ culture. Bass lines and drops that Spon helped produce rocked many a dance-floor at that time.
The surge in technology in the art of music production during the late eighties saw Spon honing his music production skills. In 1990 he teamed up with ex Click Click's Derek 'E' Smith and Graham Stronach to form a new band called The Big Eye. Described by the band at the time as 'a kind of Techno–with-Guitars', TBE played a handful of live shows, produced a couple of EP's and an Album, (both on vinyl and CD) over three years, for the London based Hydrogen Dukebox label. Most of these are now out of print, and like a lot of Spon's past material, are very rare to track down.
Spon latched early onto Jungle – the emerging Drum and Bass genre of music. During the early nineties he crafted a collection of tracks of his own. His material aimed to create a more thoughtful and 'intelligent' spin to counter the frantic naivety of the early hardcore rave sound. During this period the classic 'vocal-lyrical' approach had taken a back-seat to the repetitive and minimalist sound scape. This suited Spon's eclectic and original use of samples to create mood shifts that mould deep, optimistic and relaxing sonic journeys.
This was Spon's first major 'solo' project with guest vocalist Prince Malachi, MC13, Caroline Nische and Natasha D, the proposed album was to be called 'Earthlights' under Spon's new artist name; Nostramus. This was released in July 1997 by London label, Recordings of Substance and licensed to the US Shadow Records label. Earthlights went onto sell a respectable 6000 copies world-wide and tracks from the album were seen on many a 'chilled–d & b/electronica' type compilation album.
In 2010 Spon re-engineered and re-mastered Earthlights for the Diamond Seeds label (there is a link to further information and sound clips of the album here)
Spon continued producing and re-mixing for others up to the end of the nineties but aside from a limited edition Exodus Festival album, Bomb Babylon (a DIY darker, pertinent and bombastic affair – that, in Spon's own words was, "unfinished"), there was no further Nostramus release until the 2003 Hero of Bamboostick EP on Jolt Records.
Late in 2012 Spon released a  'proper' Nostramus follow up album, Doomsday Dot Com. Unlike the 'Earthights' album, Spon has introduced his guitar sound on a few of the tracks for the first time with Nostramus.
Another project has involved re-mastering some of Spon's more esoteric and subliminal work from the nineties. He has produced an album called Dark Ambient, containing largely ambient and beat-less material, but with brooding, sometimes menacing sound collages.
You wont find much guitar in this mix, but UK Decay/IN Excelsis listeners will be familiar with some of the darker sonic dream sequences, a style used in the Werewolf introduction, or Unexpected Guest for example. These sounds are embedded within this album. The artist name for this project is, The Hidden Core or THC for short! This again is available on the Diamond Seeds Label.
Spon's production work with Ella Jo
Early in 2004, a singer songwriter Ella Jo knocked on Spon's door. She had been looking for him since the '33' studio shut down in 1998. EJ promptly readied her old battered guitar and promptly sang him a handful of songs that she had wanted to record for a good number of years. She also explained that she had spent several years backpacking to far slung places across the world on her own. This obviously impressed Spon enough embark on a musical relationship that would last until the present day. The end result was a collection of three classic albums incorporating many differing styles ranging from Pop, Neo Folk, Acupela, Avant Garde, Gothic, Drum and Bass and Electronica.
Arguably the Ella Jo sound is perhaps not what one would expect from the guitarist of UK Decay at first listen but it shows off Spon's deftly touch on music production. Ella Jo's music is eclectic and shows an inner wisdom that only someone with her wide travelling and life experience can reflect. It journeys through genre's and styles with utter contempt for the narrow marketing niche, instead celebrating the oratorical rhythms and cadences of modern everyday life from a female perspective.
Although driven by Ella Jo, Spon has contributed musically to all three of Ella Jo's albums with keyboards, bass, drums and other orchestrations as well as producing the overall sound.
On the third album Attitude is Everything he played guitar on a couple of tracks with UK Decay bass-man Ed Branch also contributing. We could sum up Ella Jo's music as pure, captivating, elevating and an enigma to the preconception and cliché's of a male dominated business and listener ship. She avoids overplaying that card here, transcending the open minded listener, male or female, to a greater purpose; a true artist.
Spon is working on a full discography of his works as an artist – musician and also his work as a recording studio engineer – producer as well as a timeline. All at Stevespon.co.uk
His Nostramus work is also featured on a multitude of websites, you might want to start off here.
More details on Ella Jo's three albums here.
---
Please check out Steve Spons latest Nostramus work and product here
---
STEVE SPON PRODUCTIONS : ELLA JO'S ALBUMS
---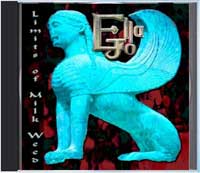 LIMITS OF MILKWEED…..ELLA JO
Ella Jo provides melodic nutrition for a runway to the stars.
This album's sound-scape provides a rich feast good enough for a Space Shuttle journey. In the Universal Soup of Life, it makes a seriously good sound track. More info..
Tracks – 10
Label – Diamond Seed Productions, Year – 2008
£9.99 SALE! Now only £7.99 including free shipping to the UK and reduced shipping price's elsewhere
Buy CD  Digital Download – I Tunes, Amazon, CD Baby
Sample sound clips here
---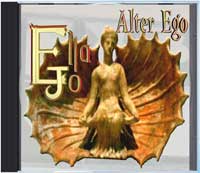 ALTER EGO…..ELLA JO
Following the Soul's whisper, Ella Jo gives clues in this album as she reflects on a hard world, but refuses to be beaten. Here there are tuneful explorations of serious issues, interwoven with the joyous stuff of dreams. More info..
Tracks – 10
Label – Diamond Seed Productions, Year – 2008
£9.99 SALE! Now only £7.99 including free shipping to the UK and reduced shipping price's elsewhere
Buy CD Digital Download – I Tunes, Amazon, CD Baby,
Sample sound clips here
---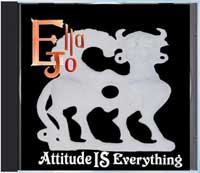 ATTITUDE IS EVERYTHING…..ELLA JO
This album is like a porthole where beauty is borne of trouble, and passing through it is a cleansing, uplifting experience. Work well crafted will always channel human experience into sweet depths, for those brave enough to share it. More info..
Tracks – 10
Label – Diamond Seed Productions, Year – 2010
£9.99 SALE! Now only £7.99 including free shipping to the UK and reduced shipping price's elsewhere
Buy CD
Digital Download – Available soon
Sample sound clips – Available soon
---
A 4th Album 'Almost Anglo Saxon' was released in 2014 more info here
---
* Subject to slight fluctuations owing to currency conversion rates. CD's available from Kunaki USA Delivery to UK and Europe around 8 to 14 days. Payment via PayPal and most major cards.
---
---
LINKS
Discog: | Steve Spon at discog | The Big Eye at discog | Nostramus at discog
Steve Spon – Professional |  stevespon.co.uk
Steve Spon – Nostramus Interview: | "Where the worlds of drum 'n' bass and post-punk and goth collide, stands a man like Spon" |
Nostramus at WordPress: | Nostramus World |
Nostramus at Diamond Seeds: | Nostramus at Diamond Seeds |
Nostramus old site: | Nostramus old site |
Nostramus at Facebook: | Nostramus Facebook page |
Ella Jo Interview: | Diamond Seeds talks with Ella Jo about her groundbreaking trilogy of Album's |
Ella Jo at Diamond Seeds: | Ella Jo's home page at DS |
Diamond Seeds Productions: | Diamond Seeds home |
Comment with your Facebook, Yahoo, AOL or Hotmail